Discover is growing trees in Africa!
to combat the effects of the climate crisis, to improve soil fertility, to reduce the chances of flooding, to provide fruits, medicines and timber, and to absorb carbon dioxide. And to educate children and adults about the important role trees play in the environment.
Read here, for example, a new report from Robert Bwambale of "Bumbura (Discover) Maliba" in Uganda.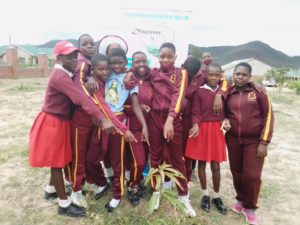 We support four major tree growing initiatives: In Kasese, Arivu and Kaliro in Uganda and in Manicaland in Zimbabwe. Our aim is to grow at least 30,000 trees each year for 5 years! We are very grateful to the town council  in Winnenden that has agreed to support this work to the tune of 15,000 Euro (about £12,700) per year for 5 years. This meets one third of the required budget for achieving our aim!
In 2021, these partner projects planted 43,500 seedlings! A marvellous achievement!
In Marondera, Zimbabwe, the Discover Green4Life project is establishing an Eco Farm. This farm is already a training facility for the neighbourhood and includes a demonstration vegetable garden, tree planting, biogas units and bee keeping. See pictures here of the Field Day held on 3rd June 2022.
Here you can read more reports of the Eco Farm and the tree planting activities of some of our partners:
This report of the tree growing project in Arivu, Uganda, written in early 2021, explains the urgent need for trees in northwest Uganda.
Would you like to compensate for your carbon footprint by helping Discover partners in Uganda, Zimbabwe and Malawi to plant trees? Here's how!
Discover moves on!
Discover partners are standing on their own feet!
By March 2022, Discover e.V. had brought its support for community development in Africa with an emphasis on natural heathcare to an end.
We are proud of what, with the support of many friends, our partners have achieved since we founded Discover in March 2014.
With grateful thanks to our many supporters,  in many different ways  we enabled our partners to have the resources and skills they need to continue their excellent work without further financial support from us.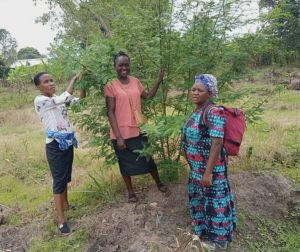 For example, in this "exit strategy", which ran from October 2020 to March 2022, we gave support to:
several study visits, in particular to the Farmer Field School established and run by Eric Kihuluka of the Mikwano Project in Kaliro, Uganda.
the Fweny network in South Nyanza, Kenya, for their work with 12 self-help groups.
the indigenous seed collection project of Makabuli Yusuf on the Elgon Mountains, Uganda.
Daniel Twesige of the Scope Foundation in Jinja, Uganda, to generate income from natural food supplements, so he can continue to support the families of prisoners.
one last training seminar run by Vumbula Masaka in Uganda.
the tree nursery of Nelson Moyo and colleagues in Dedza, Malawi.
growing moringa in Ongoromo Village in Uganda.
100 schools in Kaliro District that need vegetable seeds for their school gardens which were neglected while schools were closed for two years because of COVID.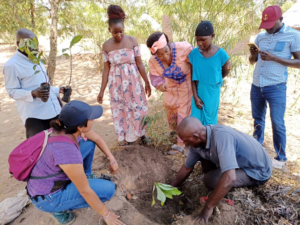 In Uganda, Rehema Namyalo and her colleagues in the "Vumbula Masaka" training team will continue to run training seminars in organic agriculture, the cultivation and use of medicinal plants in natural healthcare and income generating activities. See here for more information.
Watch Keith Lindsey, Chairman and Coordinator of Discover, describing the benefits that this tree planting programme will bring and making an appeal for support
Annual report 2021
The Discover Annual Report for 2021 describes the many activities of our partners during the last 15 months of Discover as a training and development organisation.
Uganda Partner Conference Handbook:
Following the Discover partner conference which was held in October 2019 a Conference Handbook was produced which also doubles as a Trainers' Resource Book. This may be read here.
Page last updated on 23 August 2022