Your are warmly invited to take part in this
Six-day intensive Training Seminar in
"Self-reliance in health and welfare"
9– 14 March 2020, Luweero, Uganda
A new report from Discover Zimbabwe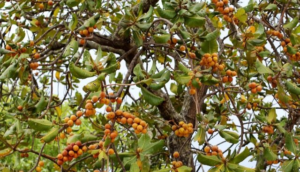 which describes their environmental work and, most important of all, their "Each Child a Tree" and "Each Community Member a Tree" campaigns. This initiative is an important contribution to environmental degradation in Manicaland, Zimbabwe. Read it!
Discover partner conference, Uganda, October 2019
Thirty Ugandan colleagues from many parts of Uganda met for one week at the Salem Uganda site near Mbale and enjoyed a rich exchange of knowledge and experience. Members shared their experiences of natural medicine preparation and the challenges of registration and marketing, the training of their community groups, their work in schools, training in conflict resolution and the massive task of reforestation on the nearby Elgon Mountains to prevent future landslips. Yusuf Makabuli took the group to his plantation of many indigenous trees and to visit the beautiful Sipi Falls, and on the way pointing out the urgency of tree planting on the mountain.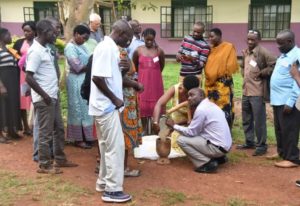 Following the conference, the international Discover Coordinator, Keith Lindsey, visited Kaliro District. With support from the Erbacher Stiftung, Eric Kihuluka and the Mikwano Project have been spearheading Discover outreach in the 220 schools in the district and have established an ambitious Farmer Field School. The majority of schools have now established school gardens and provide lunches of maize porridge supplemented with vegetables from the gardens. Music, dance and drama is increasingly used to enable the pupils to think about social issues in the community. This short video clip shows a drama at Kanankamba Primary School in which the community protests against the father who wants to give his young daughter in marriage to an older man, because she has not performed well at school.
The Climate Crisis: What we can do!
Support our Discover tree planting programme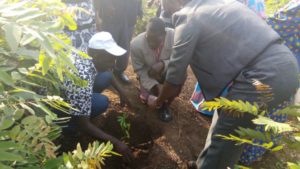 Compensate for your carbon footprint (caused by car travel, flights, home heating, food and all other purchases) and at the same time help our partners in Uganda and Zimbabwe to avoid the worst effects of climate change.
For more information, see "Discover Partners are growing Trees!".
Two delighted disabled boys in Maliba, Uganda, now have wheelchairs
Many thanks indeed to Humanitäre Hilfe für Uganda Verl e.V. Read the report
Rehema Namyalo, Andrew Kyambadde and  Evelyne Nakamatte successfully held intensive training seminars in self-reliance in health and welfare, in March in Kabongezo Village, Mityana District, and in August in Nakaziba Village, Kiboga District, Uganda.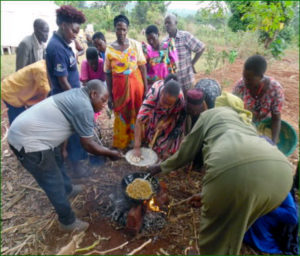 In each case, seven full days of top-class instruction were given to a group of about 30 participants in a wide range of topics concerned with health and welfare:
organic gardening,
maintenance of soil fertility,
cultivation of Artemisia annua and many other medicinal plants,

The Chairman of Mityana District made a closing speech and presented certificates to the seminar participants.

production and use of medicines from these plants to treat many serious health problems including malaria, diarrhoea, skin problems and wounds,
healing massage,
nutrition, which was supported by home-made meals which provided a very balanced diet,
hygiene and soap production,
simple but important technologies including tippy tap, Ecosan compost toilet, charcoal fridge, solar drier, solar oven, SODIS, and fuel saving stoves,
income generating projects.
See a photographic record of the Kabongezo seminar here and read a full report here.
Interim Report May 2019
What our partners have achieved with your donations and how grateful they are. Read the very encouraging report with news  and photos of the work of many partners.
Read the Discover Annual Report for 2018
See a powerpoint presentation of the Discover visit to Uganda in October – November 2018
The work of Discover in schools: Many Discover members in Uganda are active in primary schools. During our recent visit our partners introduced us to no less than 10 schools. Read a summary of this work. Bwambale Vincent, a 14 year old pupil at St John's Primary School, Maliba, Uganda, has written this super report about how he is enjoying and benefitting from the Discover group in his school.
Page last updated on 13 February 2020