Support our Discover tree planting programme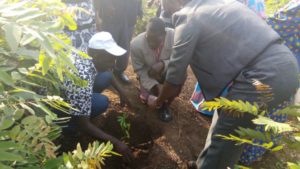 Compensate for your carbon footprint (caused by car travel, flights, home heating, food and all other purchases) and at the same time help our partners in Uganda and Zimbabwe to avoid the worst effects of climate change.
For more information, see our "Appeal for funds August to October 2019".
Two delighted disabled boys in Maliba, Uganda, now have wheelchairs
Many thanks indeed to Humanitäre Hilfe für Uganda Verl e.V. Read the report
Rehema Namyalo, Andrew Kyambadde and  Evelyne Nakamatte successfully concluded an intensive training seminar in self-reliance in health and welfare in Kabongezo Village, Mityana District, Uganda.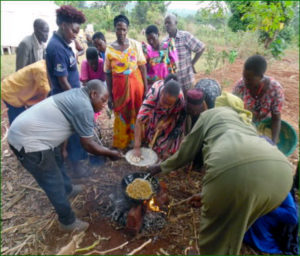 It was held from 25 to 31 March 2019.  Seven full days of top class instruction in a wide range of topics concerned with health and welfare;
organic gardening,
maintenance of soil fertility,
cultivation of Artemisia annua and many other medicinal plants,

The Chairman of the District made a closing speech and presented certificates to the seminar participants.

production and use of medicines from these plants to treat many serious health problems including malaria, diarrhoea, skin problems and wounds,
healing massage,
nutrition, which was supported by home-made meals which provided a very balanced diet,
hygiene and soap production,
simple but important technologies including tippy tap, Ecosan compost toilet, charcoal fridge, solar drier, solar oven, SODIS, and fuel saving stoves,
income generating projects.
The seminar group benefited from the participation of George Zokli. George is a valued partner of Discover in Ghana. He shared his extensive knowledge of moringa and how to make a delicious and nutritious moringa drink.
See a photographic record of this seminar here and a full report here
Interim Report May 2019
What our partners have achieved with your donations and how grateful they are. Read the very encouraging report with news  and photos of the work of many partners.
Read the Discover Annual Report for 2018
See a powerpoint presentation of the Discover visit to Uganda in October – November 2018
The work of Discover in schools: Many Discover members in Uganda are active in primary schools. During our recent visit our partners introduced us to no less than 10 schools. Read a summary of this work. Bwambale Vincent, a 14 year old pupil at St John's Primary School, Maliba, Uganda, has written this super report about how he is enjoying and benefitting from the Discover group in his school.
Page last updated on 6 September 2019