The corona crisis
The impact of corona in Sub-Saharan Africa has been very severe. The lockdown imposed in Uganda put a stop to all pubic transport. Suddenly there was no casual work available, and many families went hungry. On top of this, the northeast was afflicted with a plague of locusts, and Kasese District suffered terrible flooding.
Discover partners have been absolutely first class. They have worked tirelessly to help and support their communities. Discover supporters in Germany and the UK have generously given donations for emergency relief. You can still donate here!
We will post several reports that show the dedication of our partners here. The first is of Christopher Nyakuni in Arivu, northwest Uganda.
In Zimbabwe, encouraged by the experience of Madagascar with the "Covid-Organics drink", which includes Artemisia annua, Discover Zimbabwe has developed "Makomo Natural Tonic Solution", a tincture which contains Artemisia annua and four local herbs. Tests will be conducted to assess its preventive properties against colds, bronchitis, fever, cough and general body weakness. If successful, this product will be made more widely available in Zimbabwe. Read more.
Handwashing
As in western Europe, many African countries are subject to "lockdown", schools have been closed and public meetings are banned.
We are told to wash our hands regularly with soap and water. In Africa, water is a precious and scarce resource. The "tippy-tap" is something that features in all our training programmes. Tamima Omondi of the Fweny Self-help group in South Nyanza, Kenya, sent us this excellent video, which shows how, even where water in scarce, one can wash one's hands with soap and running water.
This Discover leaflet describes the tippy-tap in detail.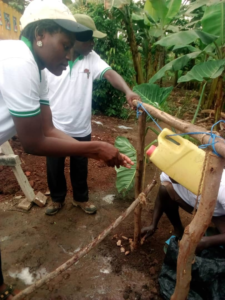 Training seminar in Luweero, Uganda
Another successful week-long training seminar was held in Luweero. It was organised by William and Anna Mwesigye who run a model farm and have many registered herbal products, and Rehema Namyalo, leader of the Vumbula (Vumbula = Discover) Masaka training team.
In addition to teaching organic farming and the cultivation and use of medicinal plants, solar technologies and liquid and bar soap making, this seminar included banana management, cassava cultivation and local chicken keeping.
Participants went home with their information packs of the Discover Starter-kit, the anamed Seminar Handbook and poster, their medicinal products, a T-shirt and a variety of seeds and seedlings.
Certificates were presented by the local ward councillor (LC3). The Luweero Discover group was formed.
The picture shows the construction of the tippy-tap.
Tree planting
The Discover tree planting programme continues. On 21 March this year, the International day of the Forest, Discover partners planted trees in Zimbabwe, Malawi and Uganda. Many groups had planned to plant trees together with teachers and pupils in local school, but because of the corona crisis all these events have been postponed.
The picture shows the headteacher of the Sacred Heart Primary School in Manicaland, Zimbabwe, planting a tree with his pupils.
Fishponds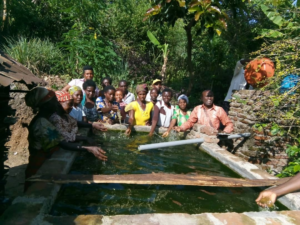 Fishpond construction goes ahead successfully in Kighengi Village, near Kasese, Uganda. Water filters have been constructed, which also provide nutrients for the kitchen gardens. The first fish should be ready for harvesting about two months from now. Watch this space!
The picture shows some of the second group of families being trained prior to the construction of their ponds.
Annual report 2019:
The Discover Annual Report for 2019 features the training seminars of Vumbula Masaka in Uganda and the extensive work of Mikwano, in Kaliro District in Uganda, with schools and their Farmer Field School. It may be read here.
Uganda Partner Conference Handbook:
Following the Discover partner conference which was held in October 2019 a Conference Handbook was produced which also doubles as a trainers' Resource Book. This may be read here.
Page last updated on 10 June 2020