News from Discover partners in Africa
Training seminar in Uganda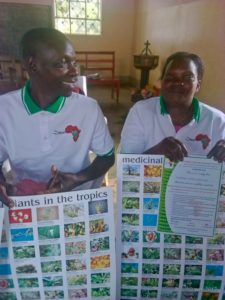 From 12 to 18 March 2018 Rehema Namyalo and her colleagues will run a seven-day intensive Training Seminar in Natural Healthcare at Mpugwe Shariat Primary School, 12km northeast of Masaka. The training will include instruction in natural healthcare, nutrition, hygiene, organic gardening, simple technologies and income generating projects. The seminar is primarily for the very active members of the Mpugwe Shariat Primary School Parent Teacher Association. Participants from elsewhere are also warmly invited. Read more here
This follows a successful training seminar which was held in November 2017 at St John's Church of Uganda, Kaboyo, 20km west of Masaka. As a result of good teaching and good nutrition, the participants left in better health themselves and have already begun to put their new knowledge to use in their communities. Read the report of the participants.
Eric Kihuluka and the Mikwano Project in Kaliro, Uganda, have continued their training of teachers and clan leaders in the District. At an exhibition attended by 80,000 people the local king celebrated the work of Discover and urged clan leaders and schools to take natural healthcare seriously.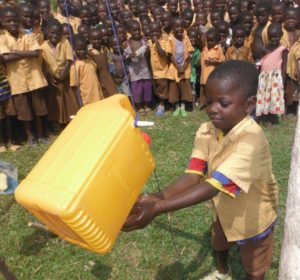 In Maliba, near Kasese, Uganda, there has been a terrible outbreak of typhoid. Many people have died. Robert Bwambale and his Bumbura (meaning Discover) Maliba group visited 102 households and discreetly inspected the toilets. They found a clear correlation between the condition of the toilet and the number of family members who were, or had been, ill. Bumbura Maliba will conduct training for the entire village in hygiene, with particular emphasis on the importance of hand washing using a tippy-tap. Read their report here.
Discover partners are raring to go …..
…..  but they simply need financial support for their teaching materials, food and transport.
BioGardens in Kasese and Jaford in Nyirivu are projects in regions that have suffered drought. The DRIP project in the UK and the Uganda Water Project in the USA are willing to provide their labour free of charge to install rainwater catchment tanks. Each tank in Kasese costs 60 GBP. We aim to provide 50 such tanks. So far we have raised money for 16 tanks. Read more.
Eric Kihuluka and the Mikwano Project in Kaliro, Uganda, for their work of improving levels of nutrition, hygiene and general welfare in the entire Kaliro District. They are strongly supported by the local king and clan chiefs.
The Kasese Network in Uganda for their programme of training farmers in drought resistant agriculture.
Ben, Alice and Freda in Butere, Kenya, who wish to support and further train their neighbours in surrounding villages in natural healthcare.
These very committed people and groups are all ready to run very valuable training events in their localities. Every little helps! Please think about making a monthly contribution, however small, so that the flow of educational training events in these poor, drought ridden communities can continue.
Page last updated on 5 December 2017