News from Discover partners in Africa
Water tanks in Nyirivu are greeted with joy!
Thanks to many generous donations from friends in Winnenden and England, and thanks to the competent work of the USA based "Uganda Water Project", 1600 residents of Nyirivu village near Arua, Uganda are enjoying the benefits of water close at hand. Formerly the women used to have to walk a mile to collect water, which they then carried back on their heads. Three water filters ensure that good drinking water is available at all times. Our partner Christopher Nyakuni reports that this new facility is contributing to an easing of tensions between the two clans in the village, Erivu and Nyirivu. The children's hygiene has already improved, as they are now able to wash before going to school.
This slideshow shows the construction of individual rainwater collection tanks in Kighenge village near Kasese and some of the very satisfied householders: water tanks slide show.mp4.
A total of 46 villagers in Kirembe, Kighenge and Maliba in Kasese district, Uganda, have received individual household tanks thanks to the generosity and expertise of the English organisation DRIP. The Discover partners who are active in these villages are all members of the Kasese Network.
 The Archbishop of Uganda promotes artemisia tea and natural healthcare!

Eric Kihuluka and the Mikwano team have been contributing towards a significant improvement in levels of nutrition, hygiene and general welfare in the entire Kaliro District. This has been confirmed by the King of Busoga and the education authorities, both of which have written to Discover to appreciate our support. The aim is to establish school gardens in all 220 schools in the district, and to encourage all the school children to think about their nutrition and hygiene. Now with the strong support of the Archbishop, many churches are requesting training in natural healthcare for their members. Local people are making contributions towards the cost of this programme. Discover is also now seeking financial support to enable this work to progress. See our current appeal.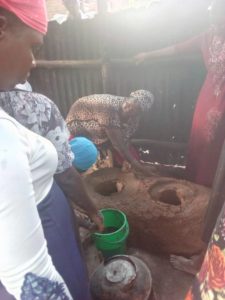 Rehema Namyalo and colleagues conclude another intensive training seminar in natural healthcare
The training took place in Mpugwe, which is located 12 kilometres from Masaka along the Kamplala road. It is a particularly poor region where a sense of despair and hopelessness prevailed. But now that has changed! This training opened the eyes of 20 people from Mpugwe and 11 others from elsewhere in Uganda to the possibilities waiting to be exploited in their local environment. The group established a large garden of nutritional and medicinal plants. They learnt how to prepare and use many herbal remedies including herbal teas, medicinal soaps, oils and ointments, tinctures, cough mixtures and syrups. They learnt simple technologies such as how to make a charcoal fridge, fuel efficient stoves, black stones, a solar oven, a solar drier and tippy-taps. They shared some ideas for income generation such as liquid soap, making bagiya, candles and chalk. The group practised healing massage and learnt about banana management for both income and food security.
Wherever such training has taken place, standards of health, hygiene and nutrition have always improved. We look forward to witnessing the same transformation in Mpugwe! The next intensive 7 day training seminar will take place in Bundibugyo in October. You are invited to attend, or to sponsor members of your organisation to attend. Read more details.
Page last updated on 6 June 2018