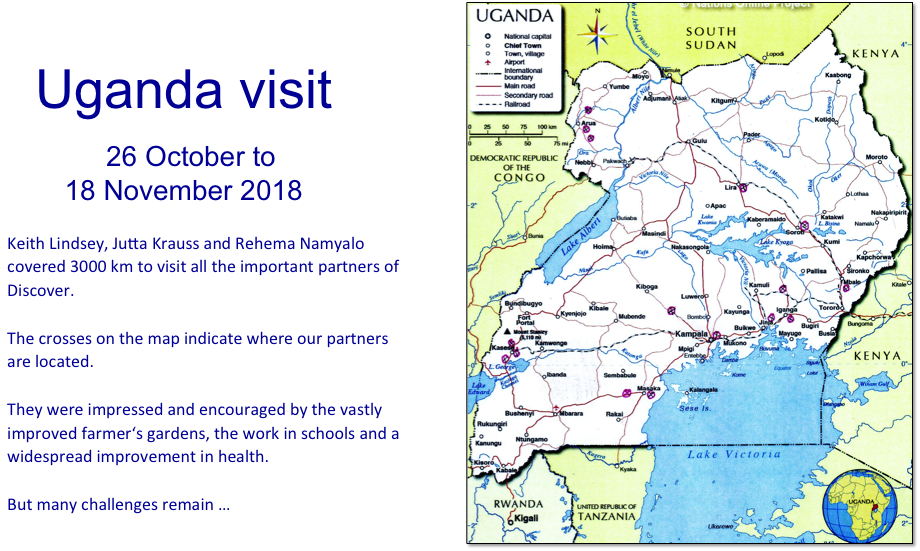 Click here to see the map in full size
Click here to see a powerpoint presentation which shows the trip in detail
The contribution of Discover to work in schools
Many Discover members in Uganda are active in primary schools. This became evident during this recent visit during which our partners introduced us to 10 schools. Read a summary of this work.
Rehema Namyalo, Andrew Kyambadde and  Evelyne Nakamatte conclude another intensive training seminar in natural healthcare – in Bundibugyo, Uganda
Hosted by the Catholic church in Bugombwa, in January 2019 twenty-six participants learnt how to prepare and use many herbal remedies including herbal teas, medicinal soaps, oils and ointments, tinctures, cough mixtures and syrups. They learnt how to cultivate Artemisia annua and how to use it to treat malaria, how to treat diarrhoea and about the enormous nutritional value of grain amaranth. Simple technologies such as how to make fuel efficient stoves, black stones and tippy-taps were demonstrated. They shared some ideas as to how they can save and make money, for example by making liquid soap. The group practised healing massage and learnt about banana management for both income and food security.
The next intensive 6 day training seminar will take place at Chosen Farm, Kabongezo village, Mityana District, Uganda, from 25 to 30 March 2019.  You are invited to attend, or to sponsor members of your organisation to attend. Read more details.
Page last updated on 14 Febuary 2019